T he Silverton Northern Railroad Reconstruction Project (SNRR Project) is an effort of the San Juan County Historical Society to rebuild a section of Otto Mears' original Silverton Northern Railroad between the town of Silverton, Colorado, and the nearby town of Howardsville.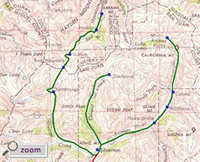 The main goals behind this SNRR Project are historic preservation and economic development for the community of Silverton and San Juan County as a whole. It will provide visitors to the county with another attraction and also encourage more overnight visits to our historically rich town of Silverton, located in the mountains of Colorado.
This project's second goal is the historic preservation of artifacts, equipment and the story of the Otto Mears' original Silverton Short Line Railways that included the Silverton Northern RR along with the Silverton RR and the Silverton, Gladstone & Northerly RR. Click the map above for a better view of these three railways.
The San Juan County Historical Society has already secured the needed land and 2.5 miles of right of way for the new Silverton Northern Railroad between Powerhouse Industrial Park northeast of Silverton and Howardsville; however we still have a ways to go before we can once again ride the rails of one of Otto Mears original Silverton Short Line Railways. Please consider supporting the rebuilding of the Silverton Northern Reconstruction Project with a donation or even a visit to our gift shop.